This post may contain affiliate links at no extra cost to you.
More info
Considering the S5 All-Rounder boxing gloves by Revgear? Well, you've come to the right place.
I've personally tested out these gloves, and in this Revgear S5 review, I'll show you all there is to know and whether I recommend them.
The quick answer is that the Revgear S5 All-Rounder gloves are an excellent option for any fighter that likes to mix up boxing with other kickboxing styles like Muay Thai and needs a glove for precision or light sparring. If you want a glove specifically for heavy hitting (sparring or bag), I'd look elsewhere.
If you need to know more, I've covered it all in detail in the rest of this article. So keep reading!
Revgear S5 All-Rounder boxing gloves review
Let's get cracking with the meat and veg' of this review.
I'll lay down every feature of these gloves and the situations they're good to use with.
Quick overview of the S5's
All-Rounder
Revgear S5 All Rounder Boxing Gloves
The Revgear S5 All-Rounder boxing glove offers a unique combination of stylistic and functional choices, making it pretty good for most training uses. From my experience, it'll be best used for kickboxers and Muay Thai guys on the mitts/pads and technical sparring.
Use code 'MMAHIVE' to get 10% OFF direct only!
Pros:
Great affordable price for this quality

Premium leather construction

Designed to be suitable for different training styles

Multi-layered padding

Rounded shape knuckle padding

Mid-length hook and loop closure, great for Kickboxing styles

Easy to strap on and off quickly

Great bold design in five color options

Available in 12 oz or 14 oz sizes
Cons:
Inner hand compartment can be too tight for hand wraps for some people

I wouldn't recommend to use it for all types (e.g. heavy bag/sparring), despite its name
Check Revgear US Price 🇺🇸
Check Revgear EU Price 🇪🇺
If you don't feel like reading my full review, then I'll summarize the takeaways for you.
S5 has good quality outer leather that lasts, and the inner material feels soft and comfortable.
This glove has a mid-length hook and loop strap, making it useful for boxing and kickboxing styles like Muay Thai. The strapping feels firm but is easy to put on and take off.
I really like the padding level over the knuckles, particularly over the index finger, as it curves seamlessly with the thumb – making it excellent at protecting your knuckles.
It's easy to make a tight fist wearing these gloves, which gives you a lot of confidence to throw punches with good form that will resist building up any injury.
The thumb position feels ergonomic and comfy.
I think they're an ideal glove for kickboxer precision work, clinch, or light sparring because of the slight wrist flexibility, easy-to-open palm, and overall glove shape. I probably wouldn't recommend these for heavy rounds, especially on a heavy bag.
First impressions video of the Revgear S5's
When I first received these gloves from Revgear, I filmed a hands-on with them in this first impressions video:
For the complete review of the S5s, keep reading to get all the details and intimate close-up photos of what they are like.
Things to know about this review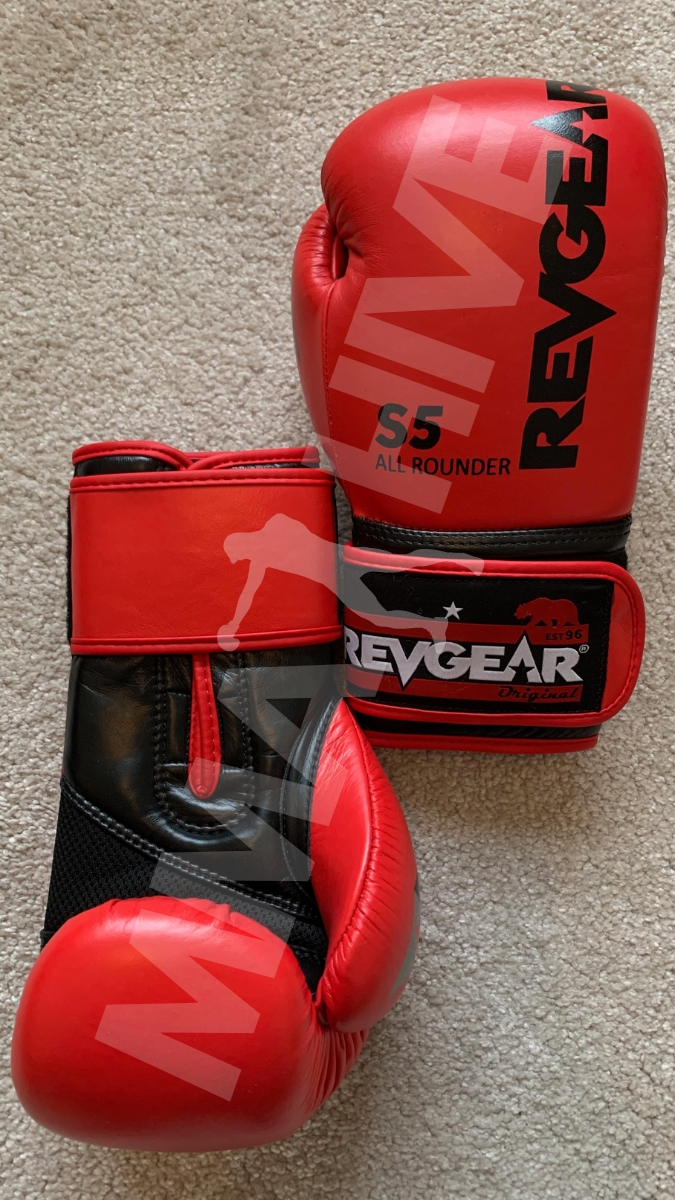 This review was, in part, sponsored by Revgear. They sent me a pair of these gloves for free so I could review them, but I haven't been told or paid what to say – this is still my genuine opinion, good or bad.
I am reviewing the smallest 12 oz glove size. This is actually an OK glove size for my bodyweight as well as wrist and hand size. But the size I got to try could affect my opinion for certain use cases, so consider that.
I'm reviewing the Red/Black color variant, but there are several other options to choose to suit your personality or style.
Now some of those niggly things are out of the way. Let's cover the specs.
Technical specifications of the S5
These have many of the same qualities you'd expect from a boxing glove, but I'll cover each in detail here so you know what you can expect:
Glove weight is either 12 oz or 14 oz, depending on the size chosen (they're supposed to be available in 16 oz, too, but I couldn't find any in stock at the time of writing)
Constructed with a premium leather outer material
Has a deep multi-layer padding
Has rounded knuckle protection, particularly over the index finger/knuckle
Ergonomic thumb position, slots neatly next to the knuckles
Mid-length wrist strap positioning
Velcro fastening strap for easy wear and removal
Palm air vent for quicker drying
Glove design and style
I've been testing the S5 gloves in the "Black/Red" color variant, which is more red than it is anything else. A nice and bright cherry red, if you ask me.
Overall, I think the design looks really great.
The only thing I'm not a big fan of, as with anything you're paying money for*, is that the Revgear logo is kind of everywhere. You can't mistake who made the glove.
*And I didn't pay for these gloves, as this was a sponsored review, and I got them for free.
Luckily, the Revgear logo is nice and the brand overall has a modern and fresh style that you don't mind promoting quite so much.
The only thing about the style that leaves a little more to be desired is the glove shape, as it has a fairly standard boxing glove template, there is not a ton of shaping going on here that might offer any performance improvements.
But despite that, there is knuckle coverage and neat thumb positioning. Plus, for the price of these gloves, you're getting a good deal, whichever way you look at it.
Materials quality and feeling
The leather does feel like a very nice quality, with natural creasing and good bounce when testing for firmness.
The color dying is done well, as the color pops out and has no adverse effects on the leather. It feels like it will last for a long time and that the color will maintain.
The velcro strap feels strong over the first few uses, so I'm confident that it can stay firmly in position throughout hitting the mitts or some light sparring. You don't want a glove that starts spinning around your wrist in any way.
The insides of the glove have a soft material, probably some kind of improved polyester, so it does feel very comfortable to put your hands in.
The only issue is that it can be a bit too snug so some people might have issues wearing a full hand wrap and the glove.
This is how it seems for me on the 12 oz size, so you might want to consider moving up a size if you know your hands are medium-to-large.
The strap has a nice Revgear patch on it that's stitched in, which I like the look of, but I worry about it being a bit of unnecessary friction that you might catch a sparring partner with.
Testing for different use cases
I think it's important here to discuss whether or not these gloves are actually "All-Rounder" gloves, as per their name.
When a glove claims to be able to do it all, you have to have a certain scent of skepticism to ensure that you're picking out a glove that's best for your needs.
Mitts or pad work
For precision work on the mitts, like with your trainer/coach, then I think the Revgear S5 is a solid option.
The gloves have curved seamless knuckle protection that is reliable for perfecting your punching technique while keeping your hands healthy.
You'd usually be looking to improve technique and form when working on the mitts/pads with a coach, and so you can confidently go down a few sizes to get lighter gloves.
Wearing lighter gloves – like 10 oz or 12 oz – would give you the ease of improving your speed and accuracy.
Heavy bag
If you're planning to tear up a heavy bag regularly and like to go hard in those sessions, then I don't think the Revgear S5 gloves are good enough for it.
If you're drilling some of your heavy combinations on the bag, you're probably whipping your fists as hard as possible. So, you need the best protection over your knuckles and wrists that you can get.
As the S5 is marketed as an "All-Rounder" glove, and based on my personal experience with the glove, I don't think it's going to give reliable protection over your wrists over a lot of heavy bag work.
If I wanted a glove to use primarily for hitting hard on the heavy bag, I'd pick something else with a larger available size (14 oz > 16 oz) and stellar wrist support like the Hayabusa boxing gloves.
You can use a glove like the S5 if you focus on precision striking on the heavy bag.
Sparring
I like the Revgear S5 for light sparring, mainly if you use it to mix boxing and kickboxing styles (more on that further down the page).
As these gloves have decent protection over the knuckles, with a neat thumb design, it feels good to wear them for some technical sparring sessions.
Again, making the focus of your training about precision, accuracy, and speed are great reasons to consider picking these S5 gloves.
If you're considering heavier sparring sessions like full-contact sparring, then while I would normally say they could be decent for that, sadly, the unavailability of the 16 oz size makes them simply not recommendable.
Boxing
I think that the Revegar S5 is a good option for regular boxing use. After all, they are boxing gloves, so they fit the purpose.
But specifically, they have good padding levels and knuckle coverage. The wrist strap is strong but easy to get on and off, as well.
So it's good when you're in a gym class and focusing on pad work with a coach (like most sessions will be), as you can work on your form and develop your skills, then flick them off and grab a water nice and easily.
The main issue with these gloves is a slight bend in the wrists due to the mid-length strapping, which is better suited for kickboxing styles; see below.
Kickboxing or Muay Thai
The Revgear S5 is an excellent glove option if you train in kickboxing styles like K-1, Dutch, or Muay Thai.
As mentioned above, the primary reason is because of the wrists' flexibility with these gloves.
The gloves have a mid-length wrist strapping, meaning that the strapping will sit slightly below your wrist joint. This, with the addition of extra flexibility in the material of the gloves, gives you the option to bend your wrist more.
These gloves also have a pretty lovely open palm design, which is helpful for many of the techniques found in kickboxing or Muay Thai. Like, the clinch, catching kicks, parrying, holding opponents for knees, etc.
I'd recommend these gloves as one of the better options for kickboxers who want a new pair for technical sparring, clinch work, or general precision and technique development.
If you want something for heavy hitting (bag or sparring), then there are better options out there.
Reasons NOT to buy these gloves
After testing out these gloves, these are the reasons why you might consider not buying them:
I don't think there is such a thing as an "All-Rounder" glove if you want to keep your hands healthy. It's better to pick a glove suited for a specific purpose.
Because of their mid-length strapping, these gloves lack enough wrist support over the actual wrist joint. This might be a complete no-go for some with weak or issues in their wrists.
A patch on the wrist strap might snag a sparring partner's skin when things get close quarters.
The S5s appear primarily available only in 12 oz or 14 oz sizes, which doesn't make them reasonable options for heavy hitters on the bag or full contact sparring.
I don't love showing the Revgear logo this much on the gloves.
Reasons TO BUY these gloves
It's not all bad, as there are several great reasons why you could choose these gloves:
S5s are affordable at under $100, making them great for beginners or when you need a second pair for a specific purpose.
An excellent option for Kickboxers (like K1 or Muay Thai) who mainly practice technique development on the pads (or bag, if going lighter), light sparring, or clinch work.
Good if you want a glove to mix between boxing and kickboxing classes.
They are very easy to strap on and take off but still have strong strapping to keep them secure.
They do have great color combinations and style, so you'll definitely look good wearing them.
Final say on Revgear S5's
To sum it all up, I was pretty impressed with these gloves when considering their quality and their price. They are really affordable!
I would buy these gloves over many other brands in the space simply because I trust the authenticity of the manufacturers and the quality produced.
Revgear is on the lower end of the market when it comes to boxing gloves, but there are several professional fighters under their sponsorship, and they don't make junk that sells for pennies.
If you want to grab something affordable for those light technique or sparring sessions, particularly kickboxing, these are a solid choice!
Common questions about Revgear
Perhaps it'll help you to make your decision about whether to buy these gloves or not if you know more about the brand, so I've covered a few common questions with answers for you:
Is Revgear a good brand?
Revgear is a trusted brand for martial arts gear since they established in 1996, making them over 27 years old! The brand sponsors and provides gear for elite athletes like Juan Cervantes, Mayra Sheetara, Brian J. Johnson, and Alberto Trujillo.
Where is Revgear made?
Most of the Revgear products are handmade in Thailand. But the Revgear brand originally began out of California, USA.
Are Revgear gloves good?
Revgear gloves are really good for different martial arts like boxing, kickboxing, and Muay Thai. Most martial artists will love their gear for quality protection, affordably priced gear that are great for kickboxers.
Who owns Revgear?
Revgear is owned by Paul Reavlin. He founded Revgear Sports Co in July, 1996 in California, USA.
What to read next
Now that you've got the lowdown on the S5 gloves, you might want to check out some of our other reviews and glove buying guides: