In this Fairtex BGV14 review, I'll describe what you need to know about these gloves, the Fairtex brand in general, and my own experiences using them for over a year!
After over a year of using these gloves to train on the bag, mitt work, and even in sparring, I found the Fairtex BGV14 gloves to be excellent value for money. They're still in great shape and are an ideal beginner pair of gloves for Boxing or Muay Thai.
All-Rounder
Fairtex BGV14 Microfibre Boxing Gloves
Fairtex BGV14 is a durable all-around glove that's worth its price. With its well-padded knuckle and decent wrist closure, it's easy to say this is a viable option for multiple purposes.
Pros:
Decent all-around boxing or Muay Thai glove

Good knuckle padding and resistance

Extremely durable microfibre

Medium flexible wrist crease for Muay Thai/Kickboxing

Sizes 8oz to 16oz
Cons:
Thumb positioning could be better/more comfortable

Doesn't provide the highest level of wrist support
Buy On Amazon
Buy On Fairtex Store
We earn a commission if you make a purchase, at no additional cost to you.
06/03/2023 06:03 am GMT
These gloves were the first pair of boxing gloves I bought after using gym-provided ones for WAY too long.
It's essential to get your own pair so they can mold to your own fist shape rather than wearing another man's briefs.
I personally used these gloves between 2020-2021 and tested them out thoroughly in Boxing, Muay Thai, and MMA styles of fighting on the bag, the mitts, AND in sparring.
If you're here, you're likely considering these gloves, so keep reading if you want to know what I think.
What you need to know about Fairtex
Fairtex is a well-established Asian sports brand that specializes in Muay Thai gloves. They offer a very competitive product range with value, especially when compared against other similar brands in the global market. The quality of their products stands the test of time and wear.
Are Fairtex gloves any good?
Whilst Fairtex gloves are not the pinnacle of premium gloves in the market, they do offer a very good balance of quality in materials and manufacturing whilst at a reasonable price range.
They are considered a solid entry glove for many Muay Thai and Boxing enthusiasts, particularly for Asian fighters.
Are Fairtex gloves good for boxing?
Fairtex gloves are typically specialized for Muay Thai training, but they also have a smaller range suited to boxing specialty. Either way, their gloves are generally very good entry options for a mix of training such as the heavy bag, pad work, and even sparring.
Sometimes Muay Thai gloves can have a more flexible hand opening for the palm. In the fight, the Muay Thai fighter can grab and hold onto their opponent for attacks like knees or even in catching a leg strike.
With regular Boxing, there are mainly fist strikes to parry and avoid. The clinch element of boxing is not used to specifically hold parts of the opponent's body, they usually just clinch for a moment to take a breath before a referee likely splits them up.
How can you tell if Fairtex gloves are real?
Fake versions of Fairtex gloves will usually be evident by the lower-quality materials used.
The foam padding inside the gloves will be softer and offer little to no resistance from squeezing. The outer material will also wear down very fast, unlike genuine Fairtex products.
With my pair of Fairtex BGV14, for example, the gloves offer a ton of resistance when squeezed hard:
The inner foam and the surface material spring back completely to the original state without a problem, even after months of use.
Where are Fairtex gloves made?
Fairtex gloves are designed and manufactured in Thailand.
How long do Fairtex gloves last?
Most people find that Fairtex gloves last somewhere between 8-12 months. Duration can depend on frequency, the intensity of use, and care after use.
These gloves should be cleaned and thoroughly dried out between uses to prevent bacteria build-up and foam breakdown.
Fairtex BGV14 review after using for one year
Fairtex BGV14 Microfibre Boxing Gloves
Fairtex BGV14 is a durable all-around glove that's worth its price. With its well-padded knuckle and decent wrist closure, it's easy to say this is a viable option for multiple purposes.
Buy On Amazon
Buy On Fairtex Store
We earn a commission if you make a purchase, at no additional cost to you.
06/03/2023 06:03 am GMT
Based on what you would expect a pair of Fairtex gloves to last, which is perhaps a year, my Fairtex gloves are still in really great condition after a year of use.
I think they will continue to last me somewhere up to 18 months. I will consider my options and purchase a new set of gloves that offer me what these gloves don't.
The usual advice is to have one set of gloves for bag or pad work and another for sparring.
With training, you can go with a pair that are usually smaller in size and allow you to maximize your training precision. But with sparring, you have to consider a larger size mainly for the safety of your partner.
Picking the right size for Fairtex gloves
The size of gloves you use, and for which purpose, depends on your weight. For example, I weigh around 70 kg / 155 lbs.
Let's look at the Fairtex sizing guide for gloves:
| Glove Size | Weight kg/lbs | Hand Circumference (in) |
| --- | --- | --- |
| 4 oz. | under 37 kg / 80 lbs | under 5.5″ |
| 6 oz. | under 37 kg / under 80 lbs | under 5.5″ |
| 8 oz. | 37-50 kg / 80-112 lbs | 5.5″-6.5″ |
| 10 oz. | 50-60 kg / 112-132 lbs | 6.5″-7.5″ |
| 12 oz. | 60-75 kg / 132-165 lbs | 7.5″-8.5″ |
| 14 oz. | 75-86 kg / 165-190 lbs | 8.5″-9.5″ |
| 16 oz. | 86-92 kg / 190-205 lbs | 8.5″-9.5″ |
Source
Considering the sizing chart by weight, I fall into the 12 oz gloves category. A pair of 12 oz gloves would be ideal for me to train with.
But I chose a 14 oz pair of Fairtex gloves. Why? Because I wanted to have gloves that I could use for many options.
I wanted to still use the gloves for sparring without feeling like a jackass for hitting people in the face with little padding on my gloves.
The standard for sparring glove size is pretty much always 16 oz. Just ask any (decent) boxing coach. For the big or heavy fighters, 18 oz will be mandatory.
It's about protecting your sparring partners. You don't get into the ring to hurt your partner. You get in there to test your skills and help each other improve. That's the whole point.
When it comes to a real amateur or professional-scored fight, then sure, you can throw on your snug and lighter gloves and snap peoples' heads off with your God-given weapons.
But when I was buying this pair of gloves, I wanted to have an all-rounder pair that I could use for where I spent most of my training time: on the bag and on the mitts. These did fit the bill for that.
How is the sizing fit for Fairtex gloves?
As I picked a larger size for wanting to use the gloves for sparring as well, the sizing for me has been OK but not perfect. It's partially my own fault, as I think these gloves would have been a lot better in the 12 oz size.
If you are like me and could jump between a couple of sizes, then think about what you are mainly going to be using them for.
In hindsight, I probably would have gone for the more snug fit in the 12 oz gloves, because most of my training has been working with a coach on the pads or on the bag in my own time.
My sparring sessions have been light and mainly skills-focused (footwork, reaction, and countering) rather than trying to beat my partner down.
So whilst it's not agreeable with the size standard to use for sparring, I'm a calm character and am not getting in the ring to take anyone's head off and would have been fine with a pair of 12 oz gloves.
That said, you can really tell when someone is bopping you on the nose in a smaller pair of gloves. Sometimes you can notice the size difference and sometimes how much easier it is for them to get around or through your guard (in between your hands) to sneak a hit on your chin. Let me tell you, it is annoying as hell.
If you plan to go heavy in a sparring session, then don't be a jerk, and make sure to get the appropriate glove size. You should consider 16 oz first, and only if you're considerably smaller / lighter, then think about 14 oz gloves.
If you're just looking for a pair of gloves for improving your striking in class like on the bag or in pad work, then you'll definitely want to use the size chart I added above to get a snug fit as possible.
A better, comfortable fit is going to equal more protection for your hands.
Because my gloves are slightly bigger than I need and Fairtex gloves don't have the most advanced strapping or tightening system it results in too much space inside the glove. So I can end up having less feel for my strikes which give me some thumb troubles and pretty recurring scuffs on my knuckles. At this point, I have scarred knuckles from it.
Don't be like me. Learn from my mistakes here. Pick your goal before you pick your size.
What is the strapping like for the Fairtex gloves?
My Fairtex BGV14 has a single wide velcro strapping around the wrist. Because I have a slightly bigger size than necessary, it drops further along my forearm than I would like.
With the single strapping dropping slightly past my wrist, I end up with a bit less wrist support. It's really important to get the right size so that a simple strapping system like this goes around your wrist firmly.
If you make strikes with poor technique (we all do it from time to time) and your wrist bends too much, it can hurt immediately and cause stress in the wrist, over time that's going to cause injuries that you want to avoid as much as you can.
The strapping is simple, but it is good quality velcro and well made that hasn't lost any of its grip since I first bought them. The fuzzy part has enough material for tight strapping, too.
Of course, you don't want to strap your gloves so tight that you cut off any blood circulation because you'll end up with less responsive and tingly hands. That is uncomfortable and eventually can be painful.
Make sure to wrap your hands the right way and tighten the strap firmly.
Do the materials stand the test of time and use?
These BGV14 gloves have a microfibre exterior. The material is specifically designed to be as durable as leather but without some of the negatives like the natural aging that leather has and the moisture absorption.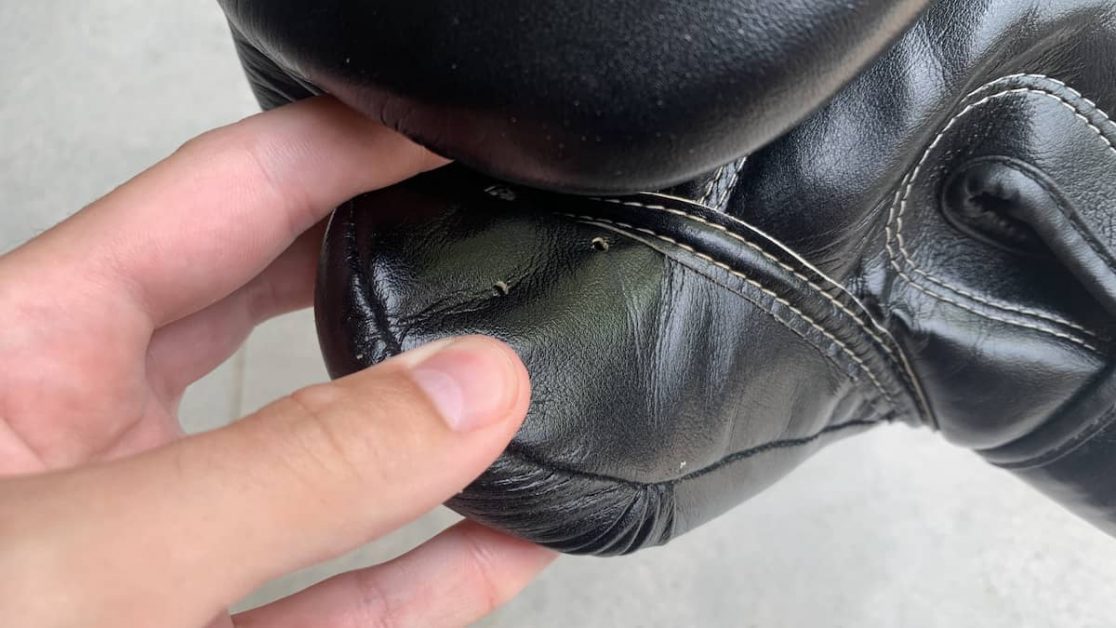 These microfibre materials seem to resist water a lot better than other gloves. Droplets of water like sweat just bounce off the outside and making it pretty easy to keep them clean and longer-lasting.
The inside of the gloves is some kind of polyester which again resists moisture pretty well. If you're wearing hand wraps properly, then you'll absorb a lot of your own sweat into the cloth, rather than into the gloves. The inner material has also been free of rips and tears so far for me.
From the overall look and feel of the gloves, you can tell that Fairtex knows what they are doing when manufacturing gloves. They are neatly made and follow a classic Muay Thai design.
Are the BGV14 gloves comfortable to wear?
The BGV14 I have are generally pretty comfortable gloves. The sizing I have, which is slightly larger in the 14 oz, provides a lot of room in the hand. I don't have very large hands, so to me, they feel pretty spacious.
Sometimes, though, that's not a good thing. The extra space can mean that my hand is moving around inside the glove a little bit more than I'd like, resulting in a few more mishaps with less accuracy or scuffs on my skin because of the movement between the hand wraps and the glove.
One thing that can be frustrating and uncomfortable is how my thumb is positioned in the glove. For me, the thumb space is too wide, creating an unnatural position for my hand. It's a bit more like holding a hook hand than an actual fist.
To get the fist, I have to squeeze my hand pretty tight. It causes fatigue in the hand.
I try to push my hands deep into the glove to be as snug as possible, and after a long session, I find that my thumb also gets irritated at the tip around the nail.
It pushes into the edge of the inside, where there is a bit of stitching, I can feel it rubbing away at my thumb, and it can get pretty irritating.
The irritation can be off-putting when you are trying to have a good training session.
I've developed less of a strong fist approach to using these gloves. Usually, when boxing, you try to keep your hands loose, so you don't clench up because clenching up makes you much less responsive on defense and harms your speed on the offense.
And normally you'd tighten your fist upon impact and aim to have a solid straight angle across your wrist all the way to your knuckles, making the contact. But seeing as I have a fair bit of discomfort at the end of the thumb, I don't tighten my fist as much as I should.
So I am probably losing a bit of power on the end of my strikes and maybe even causing more injury to my hands.
These problems could be completely different per person depending on your hand size and the glove size you get. But it is something to keep in mind that if you're looking for perfect comfort and it's really important for you, then going for something more premium is probably a good idea.
Do they look good?
I think my particular Solid Black variant of the BGV14 gloves looks great. I don't think they're going to win any awards, but they are slick and clean.
Whether they're pleasant to look at is a personal opinion. I'm glad they have options that aren't the "showman" type, as I prefer plain colors. I also don't want color so vibrant that it's easier to see where my punches are about to come from!
Fairtex always offers a wide range of color options and more unique designs, so they suit everyone's taste, both for men and women.
Final verdict on the Fairtex BGV14 gloves
All-Rounder
Fairtex BGV14 Microfibre Boxing Gloves
Fairtex BGV14 is a durable all-around glove that's worth its price. With its well-padded knuckle and decent wrist closure, it's easy to say this is a viable option for multiple purposes.
Buy On Amazon
Buy On Fairtex Store
We earn a commission if you make a purchase, at no additional cost to you.
06/03/2023 06:03 am GMT
Here is my final verdict and ratings on the various parts of the Fairtex BGV14 boxing gloves.
I've had the Fairtex BGV14 for a while now and have had great success with them. They've lasted really well in that time, as they still look like new gloves.
I've taken good care of them by cleaning them after every use and then putting them to dry as best as possible, so that's likely helped a lot.
In terms of value, Fairtex is one of the best bangs for the buck on the market. The BGV14 is aligned with that because I paid a reasonable price for these gloves, lasting a long time, and I have used them multiple times a week for over a year.
The microfiber material is impressive as it doesn't crease like leather and stays springy. The inner foam seems to have not lost any of its integrity, either, as the material forms back into its base shape easily and knowing how it feels from a lot of bag work.
I would recommend these gloves as a great starter or beginner pair. They are also an affordable option for anyone who wants a second pair of gloves just for sparring, as these fit the bill for it.
In buying the BGV14 gloves, you're getting a good quality, long-lasting (with care) pair of gloves suitable for both Boxing and Muay Thai.
They also come from a very well-respected, well-reviewed brand in Fairtex, so you can be confident about what you're getting.
Where to buy the Fairtex BGV14 boxing gloves
I bought my Fairtex BGV14 gloves from my local MMA gym. You can ask what your local gym or sports store has available. Many in the USA and globally will stock Fairtex gloves. Or you can get speedy delivery by buying online, like through Amazon.
The gloves I personally own and reviewed in this article are the Solid Black version. I like to think that I look Batman-Esque wearing them.
But Fairtex gloves are never limited by style as they usually come with lots of color options, and this same glove is no different as it comes in various colors.
Whatever style you're into, there's a variety of options. I hope you have enjoyed my Fairtex BGV14 review and are on your way to finding the right pair for you!
Seems like we didn't get it right this time...
Let us improve this post!
Tell us how we can improve this post?