This post may contain affiliate links at no extra cost to you.
More info
The Ultimate Fighting Championship includes a total of nine UFC weight classes that they use across both men and women's divisions.
The first four cover women's weight classes, with men's covering from the second to ninth:
| Weight Class (Division) | Gender | Weight (lbs) | Weight (kg) |
| --- | --- | --- | --- |
| Strawweight | Women | 115 lbs | 52.5 kg |
| Flyweight | Men & Women | 125 lbs | 56.7 kg |
| Bantamweight | Men & Women | 135 lbs | 61.2 kg |
| Featherweight | Men & Women | 145 lbs | 65.8 kg |
| Lightweight | Men | 155 lbs | 70.3 kg |
| Welterweight | Men | 170 lbs | 77.1 kg |
| Middleweight | Men | 185 lbs | 83.9 kg |
| Light Heavyweight | Men | 205 lbs | 93.0 kg |
| Heavyweight | Men | 265 lbs | 120.2kg |
While there are potentially several more weight classes UFC could use from the Unified Rules of Mixed Martial Arts, these are the nine only that they stick with.
Weight classes are needed to ensure a fair competition between two fighters. Though there can be a secret tenth weight class, known as Catchweight – so keep reading to learn more about it.
Men's UFC weight classes in order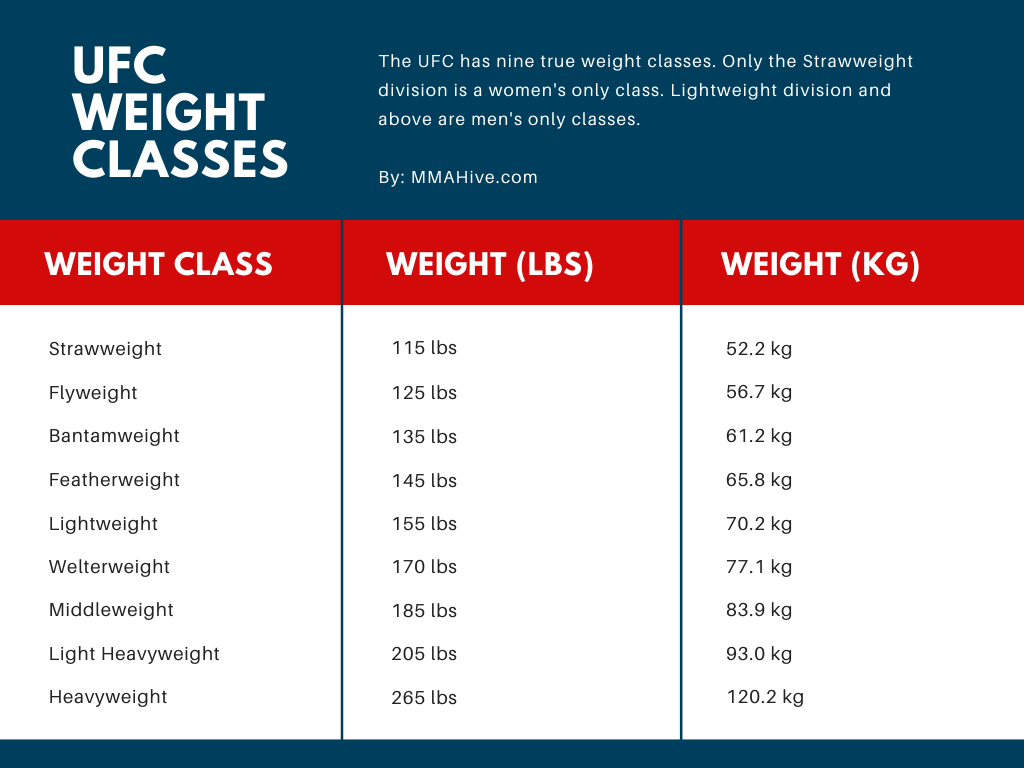 There are a total of eight weight classes for men:
Flyweight (125 lbs / 56.7 kg)
Bantamweight (135 lbs / 61.2 kg)
Featherweight (145 lbs / 65.78 kg)
Lightweight (155 lbs / 70.3 kg)
Welterweight (170 lbs / 77.1 kg)
Middleweight (185 lbs / 83.9 kg)
Light Heavyweight (205 lbs / 93.0 kg)
Heavyweight (265 lbs / 120.2 kg)
A total of eight weight classes are the usual divisions available for male UFC fighters.
In terms of viewership, research suggests that pay-per-view buyers are most interested in watching Heavyweight fights.
This most likely is a remnant from Boxing fans who are used to paying the biggest bucks to get access to the biggest fights. And sometimes that means literally!
Women's UFC weight classes in order
There are a total of four weight classes for women:
Strawweight (115 lbs / 52.2 kg)
Flyweight (125 lbs / 56.7 kg)
Bantamweight (135 lbs / 61.2 kg)
Featherweight (145 lbs / 65.78 kg)
While there is a Featherweight division for women, it's very rare that a fight happens at this weight class.
This is simply because there aren't enough active female fighters to compete consistently at the 145 lbs weight range.
Most recently, Amanda Nunes has competed at Featherweight and held the title before retiring.
Women are physically different than men as they are smaller in size, frame, and weight.
So the UFC divisions represent that, along with the currently available pool of most female MMA fighters.
The women's roster is only between a third to a half the size of the men's, so there haven't yet been any additional weight classes added.
Potentially, an Atomweight or other similar weight class could be added in the future. But there needs to be enough fighters and enough demand to support it.
All MMA weight classes from Unified Rules of MMA
While there are nine UFC weight divisions for male and female fighters, that's just one competitive promotion.
There are a total of fourteen weight classes possible in mixed martial arts that other promotions can use.
Enjoying this article? Share it with your friends:
Here's the full list of MMA weight divisions, as defined by the Unified Rules Of Mixed Martial Arts:
| Weight Class (Division) | Weight (lbs) | Weight (kg) |
| --- | --- | --- |
| Strawweight | 115 lbs | 52.2 kg |
| Flyweight | 125 lbs | 56.7 kg |
| Bantamweight | 135 lbs | 61.2 kg |
| Featherweight | 145 lbs | 65.8 kg |
| Lightweight | 155 lbs | 70.3 kg |
| Super Lightweight | 165 lbs | 74.8 kg |
| Welterweight | 170 lbs | 77.1 kg |
| Super Welterweight | 175 lbs | 79.4 kg |
| Middleweight | 185 lbs | 83.9 kg |
| Super Middleweight | 195 lbs | 88.5 kg |
| Light Heavyweight | 205 lbs | 93 kg |
| Cruiserweight | 225 lbs | 102.1 kg |
| Heavyweight | 265 lbs | 120.2kg |
| Super Heavyweight | No limit | No limit |
Unified Rules Of MMA, 2018

When these weight divisions were first created in the Unified Rules Of MMA in 2000, there was only eight.
As the sport of MMA has evolved, more weight classes have been included.
Strawweight was added in 2015.
And the Super Lightweight, Super Welterweight, Super Middleweight, and Cruiserweight classes were added in 2017.
How fighters make weight for UFC matchups
Before any matchup in the UFC, most fighters experience a grueling weight cut to lose an extra few pounds to make weight on the weigh-ins, only to rehydrate immediately after and fight heavier anyway.
This practice still exists to bring fighters within an agreed weight limit for some reason.
But most fighters' carry weight is much heavier than they normally fight at, sometimes 10-15 lbs heavier!
That's why today we see the likes of Paddy Pimblett do huge weight cuts leading to a fight. Some can cut a lot of weight and make it look easy, but it can be like putting themselves through a torture camp for others.
When fighters miss the goal weight for a matchup
Occasionally, fighters will miss the weight designated for their matchup. This could result in a few scenarios:
20-30% of the purse given to the opponent
Champions can be forced to vacate the belt before a title fight
Moving the fight to a Catchweight weight class
More on the Catchweight outcome below.
Weight classes can move to a Catchweight
Sometimes fighters will also compete at a "Catchweight." This could potentially be any weight between both fighters.
The catchweight is used when one or both fighters cannot meet the standard weight division requirements on the day before a fight.
The UFC will check in with fighters periodically leading up to the fight, and if one fighter cannot make weight, both fighters may be forced to enter a new contract agreement for the contest.
Without this new agreement at a Catchweight, both fighters could lose the opportunity to fight and make money.
They'll only get paid for making an appearance, not for nearly making an appearance. So it's usually the best option.
The Catchweight can sometimes be used to arrange a fight night from the start, particularly when two fighters want to fight each other but usually weigh in very different divisions.
For example, a Middleweight fighter challenges a Light Heavyweight fighter.
A real-life example of this was when the Middleweight fighter Rich Franklin agreed to a Catchweight at 195 lbs / 88.45 kg against the Light Heavyweight Wanderlei Silva for UFC 99.
History of weight classes in the UFC
The beginnings of The Ultimate Fighting Championship were intended to create a tournament where any fighter could fight any other, regardless of size or weight.
This was one of the early promotional messages that came with the UFC. It was the ultimate fighting tournament to decide who was the better fighter.
This hadn't been done before, and in the early 1990s, mixed martial arts was only starting in the United States.
Weight classes didn't exist until 1997
Up until 1997, the UFC officially had NO weight classes at all.
Every UFC fight night was in the "Openweight" class.
Openweight meant that any fighter could fight any other if they agreed. Their weight did not matter.
It's clear, then, why the UFC struggled a lot in its early formative years (probably 10-15 years of struggle) to get the necessary legal approvals to put on a show.
They'd have to pick their states carefully and get permission from the state office and the athletic commission.
The Openweight class was also used in special events called the Superfight Championship.
The title was formed to create an ultimate champion that anyone could challenge, regardless of weight.
The title wasn't around for very long, but Ken Shamrock and Dan Severn were two winners between 1995 and 1996.
But the Superfight Champion title and the Openweight weight class were removed in 1997 when the UFC finally introduced Heavyweight to replace the Superfight title and Lightweight.
Over time, other divisions were introduced, and actual weights were moved around as the sport continued evolving and more fighters joined.
Introduction of women's weight classes
More than a decade ago, Dana White (the CEO of the UFC) confirmed that the company would introduce its first weight class for women.
The UFC signed the then-Strikeforce women's Bantamweight champion, Ronda Rousey, in November 2012.
Ronda was awarded the Bantamweight title and was given her first title defense against Liz Carmouche at the first UFC event to feature women's MMA, UFC 157, in February 2013.
Female fighters continued to be introduced into the UFC in 2013.
The Ultimate Fighter 17 Finale, in April 2013, saw a Women's Bantamweight clash between Cat Zingano and Miesha Tate.
Zingano won by TKO. This was another great step in building the popularity of women's MMA.
Launch of the Strawweight division
In late 2013, the UFC signed contracts with eleven female fighters from Invicta FC to launch the Strawweight division.
Most of those fighters were introduced to the world in the 20th season of The Ultimate Fighter (TV show), where the winner would be awarded the first Strawweight championship belt.
Some of those female warriors included were:
Rose Namajunas
Felice Herrig
Tecia Torres
Joanne Calderwood
Bec Hyatt
Randa Markos
Jessica Penne
Claudia Gadelha
Joanna Jędrzejczyk
Carla Esparza
In the tournament rounds of that historic season for women's MMA, Rose Namajunas won three fights in a row by submission to face Carla Esparza in the finale.
Rose's submission streak ended as Carla won the fight by submitting Namajunas and became the first Women's Strawweight champion in UFC history.
Evolution of women's MMA in the UFC
Women's fights grew over the next few years, reaching another milestone as Carla Esparza lost her title against Joanna Jędrzejczyk at UFC 185 in 2015.
Since then, women's UFC has only gone from strength to strength. Women's matchups appear on almost every fight card, whether preliminary or main.
And all of these fights have spanned over a decade of competition at the elite level with the UFC.
We've benefitted from the era of fighters like Cris Cyborg, Amanda Nunes, Holly Holm, Ronda Rousey, Zhang Weili, and several more future legends.
What to read next
Now you know everything there is to know about the UFC's weight classes, how they work, and their history.
These next articles will likely pique your interest for more UFC knowledge:
Web Story: All UFC Weight Classes Explained In Order