This post may contain affiliate links at no extra cost to you.
More info
Throughout the UFC's history, the promotion has continued to deliver extraordinary events that wowed us.
Not only that, but the roster of fighters has delivered on outperforming results of the past.
That's why I've collected together the best records in UFC history for your reading pleasure.
Some of these records are just plain ridiculous, and I'm not sure they'll ever be broken, but only time will tell.
Let's look at the best UFC records, refreshed for 2023.
Best UFC Fighter Records
First up, we have the incredible records that individual fighters have earned through their blood, sweat, and grit.
Most Fights: Jim Miller (42)
Jim "A-10" Miller has been competing in the UFC since 2008, over 15 years of competing at the highest level and putting his body on the line.
This extreme participation has brought him the record for the most fights in UFC history (42).
And considering he has still met with competition in 2023, you might just see him continue to push that record higher.
Most Wins: Jim Miller (25)
Not only have Miller's efforts landed him the most fights record, but also given him the best chance to climb the ranks of the victory ladder.
And has allowed him also to hold the record for the most wins in UFC history (25).
What a legend.
Most Finishes: Charles Oliveira (20)
Charles "do Bronx" Oliveira has the most finishes in UFC history, with a total of 20 since dispatching Beneil Dariush by TKO.
His career still features most of his finishes by submission, being a Brazilian Jiu-Jitsu master.
His ability to finish so many fights makes him so highly regarded in the eyes of other fighters and fans.
The record for most finishes is unlikely to be beaten by any other competitor anytime soon.
Since 2nd place belongs to Jim Miller, whose still competing but likely close to retirement, and Donald Cerrone, who officially retired after his 2022 loss to Miller.
Most Knockouts: Derrick Lewis (14)
Derrick Lewis holds the most knockouts in UFC history with 14.
Enjoying this article? Share it with your friends:
For a short time, he was sharing this record with the legendary Matt Brown, now sitting in 2nd place after Lewis' recent TKO victory over Marcos Rogerio de Lima.
What makes his career record even better is that he's done it in arguably the most dangerous weight class, the Heavyweight division.
He's risked getting knocked out himself several times over to be able to get this record.
Some notable names that are unfortunate enough to sleep in the hands of Lewis are Curtis Blaydes, Chris Daukaus, Alexander Volkov, Alexey Oleynik, and several more.
Most Submissions: Charles Oliveira (16)
Charles Oliveira enters the record book for a second time with the most submissions in UFC history.
He's a submission specialist and leads the pack with 16 wins by submission.
Only Demian Maia (long retired) and Nate Diaz (who left the UFC) come close with 11 subs each.
There's one thing that's certain, don't show your neck to Charles because he'll jump on it like a viper.
Most Decision Wins: Neil Magny (14)
Neil "The Haitian Sensation" Magny holds the record for the most UFC decision wins (14).
He is known for going the distance with his opponents, bringing out the best in them and himself.
Some might say this makes him more of a boring fighter because he doesn't have quite so many knockouts or submissions.
But I think the fans would agree that he's one of those fighters whose "always there" and offers a challenge to most other up-and-comers.
He's beaten some notable fighters by taking them to the decision, too, like Geoff Neal, Robbie Lawler, and even Kelvin Gastelum several years back.
Biggest Win Streak: Anderson Silva (16)
Anderson "The Spider" Silva still maintains the longest UFC win streak with 16.
Even more extraordinary is that eleven of those wins were title fights against many other Middleweight greats like Chael Sonnen, Vitor Belfort, Forest Griffin, and more.
With just two of these wins by decision, and the rest all being referee stoppages due to a KO or TKO, it confirms just how incredible Silva's reign was.
Only Kamaru Usman came close to matching or beating it, sitting in 2nd place with a 15-fight win streak until Leon Edwards eroded that to take his Welterweight belt.
Most Title Fight Wins: Jon Jones (15)
Jon "Bones" Jones has the most title wins in UFC history and recently added to that tally with his victory over Ciryl Gane for the vacant Heavyweight title.
With all his title defenses and title-winning bouts combined, he leads with 15. Only Georges St-Pierre came close with 13.
During his championship reign at Light Heavyweight, he defended his belt against various UFC Hall of Famers like Lyoto Machida, Rampage Jackson, and Rashad Evans.
Interesting fact: If Jones' second fight result against Daniel Cormier was not overturned into a No-Contest, Jon Jones would also hold the longest win-streak record with 19 wins.
Most Bonuses: Charles Oliveira (19)
Charles "do Bronx" Oliveira recently surpassed Donald Cerrone's record for the most fight night bonuses to reach a total of 19 against Cerrone's 18.
And now that Donald Cerrone is retired, it seems that Oliveira will continue pushing up his record.
Charles hit this new record with his dominant TKO victory over Beneil Dariush at UFC 289.
Most Control Time: Georges St-Pierre (2:42:04)
Throughout Georges St-Pierre's career, he accumulated control for 2 hours, 42 minutes, and 4 seconds to earn the record for the most control time in a UFC fight.
This control time can either be down on the ground or even standing, but where he has been in control of the grappling situation.
The most dominant fight that GSP ever had where he showed the most control is against Jon Fitch. He won via unanimous decision with some juicy 10-8 rounds.
Most Control Time Percentage: Jailton Almeida (93.7%)
Jailton "Malhadinho" Almeida recently smashed the most control time percentage in the UFC's history with a whopping 93.7%.
This new record came after his rear-naked choke submission victory over Jairzinho Rozenstruik at UFC on ABC 4.
Before that, it seemed like Bartosz "The Butcher" Fabinski's record of 79.1% would be difficult to beat.
Apparently not, as the "Brazilian Khabib" (Almeida) has been smashing his way through other competition at Heavyweight.
Most Top Position Time: Georges St Pierre (2:22:05)
Georges St-Pierre holds the record for the most top control time in UFC history.
With all of his combined fights, we can accumulate a total of 2 hours, 22 minutes, and 5 seconds of mounted top position time. 
His fights showed how great GSP's ground game was, especially during UFC 217 when he choked out Bisping to regain the Middleweight belt.
Although he calls himself a fighter that is "good everywhere, not great anywhere," his stats beg to differ. His ability in grappling and control was often hard to beat.
Top Position Percentage: Jailton Almeida (88.9%)
Pairing with the record for the most control time percentage, Jailton Almeida also holds the record for maintaining the top position with 88.9%!
He's clearly a force of nature that uses his elite strength and grappling technique to sit on his opponents without giving them a single breath to regain their position.
Least Bottom Position Time & Percentage: Jailton Almeida (0:00 & 0%)
Yet again, Jailton Almeida enters the record book with stats that display his grappling dominance.
Almeida now holds the record for the least bottom position time and percentage in the UFC, which is zero. Extraordinary.
Previously this was held by Kamaru Usman, who was able to out-wrestle most of his victims at Welterweight until his double losses to Leon Edwards, who showed excellent fence defense.
Both (least) bottom position time and percentage are only closely followed by Justin Tafa (0:01 & 0.04%) and Tom Aspinall (0:01 & 0.1%).
It feels like Aspinall Vs. Almeida is a likely matchup in the future at Heavyweight to see exactly which one has the greatest level of grappling power.
Most Significant Strikes Landed: Max Holloway (3122)
"I'm the best boxer in the UFC!"
A famous line by Max Holloway, the record holder of the most significant strikes in UFC history.
He managed to land a total of 3122 significant strikes in the span of his Featherweight career with the help of his slick kickboxing style.
And he's continuing to compete at a high level currently, always landing a lot of blows in each fight and pushing his record up higher.
Significant Strikes Accuracy: Alistair Overeem (74.3%)
When it comes to the most significant strikes in UFC history, Alistair Overeem remains king despite having left the promotion.
In all his UFC fights, he managed to land 74.3% of his significant strike attempts.
When he wants to make you wobble, he's an expert in landing the shot, a quality that likely comes from his kickboxing background.
One of Overeem's best showcases of this was his accuracy during UFC 87 against Andrei Arlovski.
Alistair finished the fight with a front kick and a left cross that comfortably slept Arlovski.
Most Strikes Landed Per Minute: Casey O'Neill (8.77)
Finally, a female fighter enters the top record books with the most strikes landed per minute, Casey "King" O'Neill.
She's a Scottish-bred and born up-and-coming fighter on a 9-fight win streak until recently losing out to Jennifer Maia at UFC 286.
But we expect her to dust off this loss, take the learnings, and return even better.
Least Strikes Absorbed Per Minute: Jailton Almeida (0.08)
The medals just keep swinging their way to Almeida on this list, as he's absorbed the least strikes per minute in UFC history.
Granted, he's only had five fights in the UFC and one in the contender series, each a dominant finish.
But his power in his grip seems to give him the security for absorbing very few shots and dealing the control onto others.
Islam Makhachev held this record for a while, considering his unique ability to take down his opponents and control them.
That was until he faced Alexander Volkanovski and had one of the more challenging fights of his career so far, and his placement dropped for this record down to 6th.
Most Strikes Landed: Max Holloway (3366)
Max "Blessed" Holloway is back at it with another striking record.
He holds the record for the most strikes landed in the UFC with a whopping 3366.
Mixing up a combination of elbows, knees, kicks, and punches he has thrown throughout his career has helped him hold this record that is now approaching 800, more than 2nd place GSP.
One of his unforgettable fights that looked like a striking clinic was during the main event of UFC Fight Island 7 against Calvin Kattar.
Most Takedowns: Georges St-Pierre (90)
Georges "Rush" St-Pierre continues to hold the record for the most takedowns in the UFC.
During his UFC career, he managed to rack up 90 takedowns. 
Some notable wins that were never possible without a takedown are against Matt Hughes and Frank Trigg.
A unique ability of GSP was to secure clinical takedowns that always helped him to control the tempo of the fight and avoid danger.
Looking at the rankings for this record and currently active fighters, only Merab Dvalishvili looks to have the potential to overtake it at some point in the future.
Takedown Defense Percentage: Kamaru Usman (97.3%)
Kamaru "The Nigerian Nightmare" Usman had a perfect takedown defense for his career until his recent battles with Leon Edwards.
Nevertheless, he still has a 97.3% stat for the best takedown defense in the UFC.
Even a world-class BJJ blackbelt like Gilbert Burns failed to take him down.
This high-level takedown defense results from his high school wrestling experience and applying it so diligently to the cage.
Best Matchup/Fight Records In UFC History
Now that we've covered the individual fighter records, let's dive into some of the best matchups and their fascinating results.
Fastest Finish & Fastest Knockout: Jorge Masvidal vs. Ben Askren (0:05)
During UFC 239, Jorge "Gamebred" Masvidal and Ben "Funky" Askren fought for the chance to be one step closer to the Welterweight belt.
Masvidal wowed the whole world as he landed a solid flying knee 5 seconds into the first round, knocking out Askren and setting the world ablaze.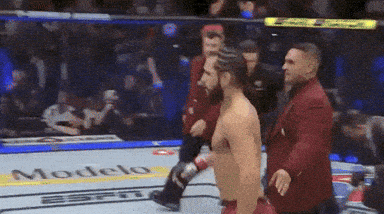 It was an unforgettable moment that created some of the greatest internet memes of all time.
Fastest Submission: Ronda Rousey vs. Cat Zingano (0:14)
During the UFC 184 main event, Ronda "Rowdy" Rousey submitted Cat Zingano with an armbar 14 seconds into the first round to become the fastest submission in UFC history.
Ronda only needed a quick clinch to execute a beautiful Judo throw that she used to transition into a scary armbar that made Zingano tap immediately. 
She was one of the greatest female fighters in UFC history and made a huge impact on women's MMA. She deserves to stay in the history books!
Most Strikes Landed: Max Holloway vs. Calvin Kattar at UFC Fight Night: Holloway vs. Kattar (447)
UFC Fight Night: Holloway vs. Kattar was one of the best performances of Max Holloway.
He made Calvin Kattar look like a punching bag. In this main event, Kattar absorbed a total of 447 strikes and gave Holloway the most strikes landed in UFC history.
Kattar looked so beat up that Dana White became worried and had Kattar rushed to the hospital immediately after the fight for taking such punishment.
Most Head Strikes Landed: Stipe Miocic vs. Mark Hunt at UFC Fight Night: Miocic Vs. Hunt (330)
Stipe Miocic landed 330 head strikes during his match against Mark Hunt in the UFC Fight Night 65.
Despite the large volume of head blows, Hunt survived every round until he was brutally knocked out 2:47 seconds into the fifth.
A lot of punishment to take to the head, only to be knocked out on top of that.
This also shows how tough Mark Hunt is and how good his chin is when absorbing heavy shots from one of the greatest Heavyweights of all time.
Most Takedowns Landed: Khabib Nurmagomedov vs. Abel Trujillo at UFC 160 (21)
Khabib "The Eagle" Nurmagomedov took Abel Trujillo to takedown city during their UFC 160 clash.
The Eagle successfully converted 21 takedowns, making the fight look like a daddy picking up and throwing his grappling dummy, just for fun.
This barrage of takedowns caused Khabib to win the fight via unanimous decision.
Biggest Takedown Accuracy: Georges St-Pierre vs. Dan Hardy at UFC 111 (100%)
During the UFC 111 main event, Georges "Rush" St-Pierre became a takedown machine as he converted all of his 11 takedown attempts on Dan Hardy to secure the greatest takedown accuracy in UFC history.
Hardy was left helpless on every takedown attempt.
This takedown clinic allowed GSP to defend his Welterweight belt in a dominating fashion and continue racking up his records.
Best UFC Events Records
Some fight nights set themselves apart from others, and these records highlight some of the incredible moments of UFC events.
Most Knockouts: UFC 92: The Ultimate 2008 (8)
UFC 92, which had Rashad Evans and Forrest Griffin in the main event, can be described as one of the most brutal events in UFC history.
It featured a total of 8 knockout finishes out of 10 fights.
Some note-worthy knockouts are from Rashad knocking out Griffin in the third round. Frank Mir also left Antônio Rodrigo Nogueira out cold in the co-main event.
Other events in the promotion matched this number of KO/TKO's but had more fights in total, making them less impressive.
For example, UFC on FOX: Henderson vs. Melendez (8/12) and UFC Fight Night: Cowboy vs. Miller (8/11).
Shortest UFC Event & Shortest Avg. Fight Time: UFC 29: Defense Of The Belts
An early UFC event with only seven fights. Ah, when things were simpler.
Only two fights from the whole event went past the first round, as it was full of plenty of first-round finishes.
This contributed to making it the shortest event in UFC history, both in terms of overall length and average fight time.
Featuring early legends of the promotion like Tito Ortiz, Evan Tanner, Matt Hughes, and Chuck Liddell.
Longest UFC Event: UFC 263: Adesanya vs. Vettori 2 (3:19:32)
UFC 263 Adesanya vs. Vettori 2 is the longest UFC event which lasted for 3 hours, 19 minutes, and 32 seconds. 
This is probably because of the lack of fight finishes in the entire event.
There are only two fight stoppages in the main card, between Moreno vs. Figueiredo and Craig vs. Hill.
Bit of a snore fest? Well, that entirely depends on what kind of fighting you like to see most.
Longest Average Fight Time: UFC 33: Victory In Vegas (16:10)
UFC 33 was an event led by two of the biggest Light Heavyweights of the time, Tito Ortiz and Vladimir Matyushenko.
This UFC event holds the record for the longest average fight time, 16 minutes and 10 seconds.
Each of the main card fights went the distance, which is mostly why the time went on for so long.
Most Strikes Landed: UFC 268: Usman Vs. Covington 2 (2407)
UFC 268 is considered one of the best UFC events for striking lovers.
The event has the record for the most strikes landed in all the bouts combined (2407).
With Kamaru Usman, Rose Namajunas, Justin Gaethje, Michael Chandler, and Marlon Vera on the card, we were expecting a punch-up, and we certainly got it.